There is a lot going on in SEO at the moment.
That's because SEO is about more than one thing. It's a puzzle with hundreds of different pieces you need to fit together. If you want traffic — and customers — from search engines, you need to work out what all those pieces are, and how they work together to get results.
Nofollow links are one crucial piece of this puzzle. And they're a piece that is often neglected or misunderstood.
In this guide, we'll be sharing everything you need to know about nofollow links, including:
Let's get stuck in:
Why were nofollow links created?
To understand why nofollow links are so important, we first need to consider the history of them and why they were created.
In the early days of search engines, all links were equal. This means any links back to your website would have counted towards your search engine rankings.
While this sounds like a good thing, it was easy for people to exploit this system. In those days, some SEO strategies consisted of nothing more than acquiring as many links back to a website as possible.
And it didn't always matter how they got them.
This resulted in people using what we now call "black hat techniques" to score more points and get them further up the rankings. These techniques consisted of taking as many shortcuts as possible.
People would buy their links and use spammy or automated link building processes, such as comment spam, to boost their rankings.
Why were these techniques a problem for search engines?
For Google — and their competitors — the searcher is everything.
Searchers need the search engines to answer their queries to a satisfactory level, or they will simply use a different engine.
The search engine's business model depends on this customer-focused approach.
Black hat link building strategies were a problem for searchers, because it meant low-quality websites were achieving high search result rankings. This affected the integrity of the search results, and risked Google's entire business.
What did they do about it?
In 2005, Google introduced nofollow links to help them combat comment spam. Comment spam involved representatives of one website posting their links in the comments sections of other sites to gain an SEO advantage.
Of course, these links were not organic, so Google decided to stop counting them. In fact, in time, Google began to apply penalties to sites using this links in an underhand manner.
Spammy links like these no longer had "zero" SEO value, they had become detrimental to SEO altogether.
Since then, the nofollow link attribute has emerged, and it's now used to protect any links that may go against search engine guidelines and policies.
By using the nofollow link to tell Google when to ignore a link when calculating its rankings, it will prevent you from being penalized if your link building practices fall outside what's permitted by search engines (e.g., if you have paid for a link).
It is important to remember that there are many situations in which inserting a link into a comment page, or paying for a link, is a useful and acceptable thing to do.
The nofollow tag means you can still do this without worrying about a penalty from Google.
What's the difference between nofollow and dofollow links?
To clarify, the difference between a nofollow link and a dofollow link is the way it is treated by the search engine.
Google (and other search engines) will use dofollow links to:
Establish how many inbound links you have and determine how this should affect your PageRank.
Create a map of your website internally, which is used to display your pages in search results.
Traditionally, search engines ignore nofollow links completely. Any links marked as nofollow wouldn't count towards your page rank and would not be crawled by search engines on your website.
However, this is set to change slightly in 2020, as Google has announced an update that will impact the way nofollow links are processed. We'll talk more about this later on.
Do nofollow links provide any SEO benefits?
Many people believe nofollow links don't have any benefits and are, therefore, a waste of time.
But we're here to challenge this misconception.
Contrary to popular belief, nofollow links are an essential part of any SEO strategy. Here's why:
They raise awareness of your brand
A link is about more than just its contribution to your search engine rankings.
Getting more inbound links to your website means you get more eyes on your business. And that's always a good thing, right?
SEO is an excellent tool for raising awareness of your brand. But building that awareness in other ways can help you get to the top of those search results faster.
They can help you gain dofollow links further down the line.
One reason building awareness is an integral part of any SEO strategy is that it can help build future dofollow links.
Think about it:
The more eyes you get on your content, the more likely people will be to link to it organically. And it's these organic, authentic links that can really help you get onto that all-important first page.
They build trust with Google.
Search engine algorithms are configured to work out which websites are the most trustworthy.
This is one of the most crucial ranking factors.
Search engines want to ensure only the best content, from the most reliable sources, appears at the top of the search engine results.
Using nofollow links helps build trust in your brand.
For starters, using nofollow links demonstrates you are adhering to the search engine's rules. Using nofollow links to show, for example, links you have paid for demonstrates transparency and lets Google know you are a brand they (and their users) can trust.
They also build trust by showing you're a genuine business.
When you pay for links, you're buying advertising.
Search engines have never indicated they don't want people to pay for advertising — just that they need to know when links have been bought, and when they have been acquired naturally.
We need to stop thinking about nofollow links as a penalty. Instead, you should think of them as a way to avoid a penalty — as a way to communicate with Google.
Use them to demonstrate the type of business you're operating — a brand people can trust.
What's the proof that nofollow links boost SEO?
The indications are all very strong, but this is nothing without proof. With this in mind, how can you be sure that nofollow links actually boost SEO?
There are in fact some proofs out there that really underline the benefit to SEO. One such proof was found by Adam White at SEOJet, and he published his case study about the experiment on SEM Rush.
Before we take a look at this in more details, let's set some parameters to begin with:
SEOJet does not target keywords on the homepage. This gave Adam a clean subject to conduct the test with, and enabled him to secure more accurate results.
Adam decided to try to tank for the term "backlink software," which adequately describes what SEOJet does. This is not a highly competitive keyword, but it is also an extremely relevant one.
At the beginning of the experiment, the homepage was ranking at around number 19 on Google's SERPs. This was after a recent low point of number 37 only a few weeks before. The site was improving its ranking, but the improvement had plateaued.
Adam's tactic was to purchase a single nofollow sitewide link, and to use an exact match for the anchor text – "backlink software."
It did not take long for things to start happening for Adam and SEOJet, and, only a couple of weeks later, it broke into the top ten results. Another two weeks, and the site was number one on Google's rankings.
Image: Google Analytics Screenshot via SEMRush
The above graph demonstrates not only the speed of the impact but also the consistency. The site remained in the top five results over the following weeks, and eventually stabilised in the top two. These are very interesting results indeed.
Adam advises caution regarding these results, but other experts do seem to support these claims.
Writing for BloggingRepublic in 2019, Sandeep Mehta described the phenomenon of "link juice," and talked about how nofollow backlinks contribute to this.
Mehta talked about how search engine algorithms are growing more sophisticated all the time, and how the nofollow tag is no longer a sign for the crawlers to discount the link. 
As such, a high-authority backlink, even with a nofollow tag, can prove seriously effective for websites while still protecting your business against the penalties that come from unscrupulous link building.
What are the changes happening to nofollow links in 2020?
In addition to the SEO benefits listed above, some changes are happening in 2020 that make nofollow links even more important.
Until now, the search engine algorithms have ignored all nofollow links when calculating PageRank.
This is about to change.
Instead, Google will begin to view these nofollow links as "hints" when calculating PageRank. This means they may contribute to SEO, or — as is current practice — they may be ignored.
Although this is not a substantial change — and the majority of nofollow links are still expected not to count towards rankings — it's still significant.
And it further backs up our view that nofollow links should be embraced, alongside dofollow links, by anyone serious about using SEO to bolster their digital marketing strategy.
To learn more watch this clip from John Mueller at Google.
What is Google's approach to user-generated content (UGC) and sponsored tags?
The powers that be at Google launched a couple of other link attributes that run alongside the rel="nofollow" tag. 
These are:
rel="sponsored"
and
rel="ugc"
Find the chart from Google here on the new link attributes.
As you may have guessed, the "sponsored" tag is for links that are paid for or published via sponsored content. UGC, on the other hand, is for links within content generated by users.
This might include forum posts, posts in a comment section, or invitational guest posts.
Traditionally, the nofollow tag has been used in all of the above cases. In fact, Google has said that there is no benefit to be achieved by using the new tags.
However, if this is the case, why would Google go to the trouble of launching these tags at all? It appears that Google is not giving us all the facts.
Writing for Moz, Cyrus Shepard recently published the results of a test involving the UGC tag. 
Let's take a look at some of the parameters of his test:
The user-generated content in question would come from the comments section on a page on the Moz website. Moz is already a high-ranking website, but, as always, there is room for improvement.
Moz has traditionally added the rel="nofollow" tag to all the links posted in its comment sections. The idea of the test is to alter this to rel="ugc" and to gauge the results.
Cyrus used DistilledODN to measure the results, not Google's own Analytics. This enabled more precise insight from split testing.
The aim of the test is to examine how the site hosting the links is affected, not how the sites that the links are pointing to are affected.
The test was launched and the results… well, the results were disappointing.  
No major SEO boosts were reported, and the prediction generated by DistilledODN found that traffic would either grow by 9,300 visits each month or fall by 26,000.
This is not a very useful prediction, and the test results were declared "null."
The results of the test. Image via Moz
So, it seems Google was telling the truth when they said there was nothing to be gained, SEO-wise, by deploying the new attributes.
But, hold on a minute. Why introduce these new elements at all?
It feels like Google has a plan for these attributes, and that they may well become significant parts of the SEO strategy going forward.
Watch this space.
Why is it important to consider using nofollow links on your own website?
Given the impending changes to the way search engines use nofollow links, this is a topical question.
Historically, people have used the nofollow attribute to tell search engines not to index a particular page.
In other words, they have used it to let search engines know which of their website's pages they don't want to appear on the search engine results page (SERP).
This isn't best practice, and it's never been the most effective way to do things (as we will discuss further down the page).
But now — given that Google won't always ignore a nofollow link completely — it's unlikely it will work 100% of the time.
This means nofollow links shouldn't be used, at the page level, to prevent a page being indexed by the search engines.
So why is it still important to consider using nofollow links on your website?
This is a fundamental question.
And, unlike most questions related to SEO, the answer is actually pretty simple.
As we have already mentioned:
Nofollow links build trust with the search engines.
When they're used appropriately, in the manner they were intended to be used, nofollow links let Google know whether or not they should consider the link when deciding on Page Rankings.
Using these links demonstrates you're adhering to Google's link policies — playing by the rules.
And this is why you should consider using them on your website, when appropriate.
This leads us to the next question..
When should you use nofollow links?
Now we've dispelled some of the misconceptions about nofollow links, let's talk about when you should use them.
The reasons for using nofollow links vary according to whether you're using them internally, on your own website, or externally — for inbound links from other sources.
Still not sure when you should be using them? Here are a few questions to ask yourself:
Has someone paid you to post a link on your website?
If someone has paid you to share their link on your website (e.g., in a blog post), you should always add the "sponsored" attribute.
Some people are hesitant to do this. Taking payment in exchange for a black hat SEO link seems like an easy way to make some extra cash.
But ask yourself this: is a one-time fee enough to make it worth risking your own page ranking?
Are you leaving a comment with a link back to your website?
Most commenting platforms now use nofollow links as standard. This means, if you're sharing a comment with a link back to your website, it will automatically appear as a nofollow link without further action on your part.
But this can't always be guaranteed.
So, if you're unsure, you should endeavor to add nofollow links manually to your comment. We'll show you how to do this towards the end of this post.
Have you paid someone else for sponsored content or ads?
As we've already mentioned, sponsored content and advertising is still a great way to develop your online marketing strategy.
This applies even when you're not getting SEO points directly from that post.
But — to avoid penalties relating to your sponsored posts — make sure the content uses "sponsored" links back to your website
Communicate clearly with the person responsible for sharing the content, and include "sponsored" links in terms of the agreement.
As a general rule, whenever money changes hands over a piece of content, "sponsored" links are mandatory.
Have you shared a link to your website on a directory?
Like sponsored content, sharing a link to your business on an online directory provides many benefits.
These listings get more eyes on your business.
Directories also appear regularly in search results, so they can benefit your SEO efforts indirectly. People tend to use directories when they're looking to buy something — so referrals from directory websites often come with high conversion rates.
But, when links from directories aren't labeled correctly, they can also be a source of search engine penalties.
This is true, even for free directories — when you haven't paid for advertising.
This is because the link back to your website hasn't been acquired organically — you have put it there for the sole purpose of advertising your brand.
To get around this, make sure you double-check whether a directory uses dofollow or nofollow links before you add your website.
If they appear to use dofollow links, and you still think it would be worthwhile to add your business to the directory, contact someone for the website and ask them to update the link attribute for you.
When should you avoid using nofollow links?
We've now established nofollow links aren't the disaster many people assume they are.
But it's still important to use them carefully.
When it comes to building PageRank, dofollow links are more valuable. As we've already mentioned, they contribute directly to your rankings — with each one adding to your total SEO score.
So when should you avoid using nofollow links and use dofollow links instead? Here are the three main examples:
When you're sharing organic links to other content on your own website.
If you share content on your blog, you will likely reference content from other sources.
This is content people have worked hard to create. If you want to link to it, it's also likely to be good content the writer has spent considerable time crafting.
In these instances, it's good practice to use dofollow links.
This is good news for the websites you're linking to. It rewards their hard work by improving their rankings — so you can think of it as SEO karma.
But it also benefits your own SEO directly.
This is because outbound links help search engines figure out where you sit within the marketplace.
And when Google knows the niche you're operating in, you're more likely to rank for relevant terms.
When you want to prevent Google from indexing one of your webpages.
We've already discussed this in-depth, so we won't repeat too much here. But nofollow links aren't the correct way to let Google know when you don't want a particular page to appear on the search engine results.
Do you want to know what to do instead? Keep reading — we'll cover this towards the end of the post!
When another website is linking to one of your webpages organically.
In the SEO world, the best kind of inbound link is the one your website has acquired organically.
This means people have linked to your content without any involvement on your part.
You have not paid for the link.
You have not requested it.
You've probably never even had any kind of communication with the person who has shared it.
With that in mind, these links are harder to control.
Hopefully, the person has used a dofollow link — and no further action is required on your part.
But if you've discovered an organic, inbound nofollow link (and we'll tell you how to check for them soon), why not contact the post's writer to request they change it to a dofollow link?
What about link building — should you use nofollow or dofollow links?
This is where it gets a little complicated, and the lines between when we should use nofollow or dofollow links become a little blurred.
There are two things to consider here:
A link you've acquired through intentional link building isn't strictly organic. If you were to adhere rigidly to the search engine's guidelines, you'd probably want to make this a nofollow link.
The purpose of link building is to acquire dofollow links — as these are the ones that directly influence your page rankings. So, is there much point in building those links if they're all going to be nofollow?
When you build links strategically using white hat strategies — which focus on links without breaking the rules — using dofollow links isn't likely to cause you any harm.
To put this into perspective, here's an example:
One of the most effective white hat strategies for building links is to create an outstanding piece of content. This is usually an in-depth piece, focusing on a burning question within your niche.
It will take you a long time to create the piece, and — throughout the writing process — you will be prioritizing quality and value to the end-user (the person reading the post).
Once the post is live, you will reach out to other websites in your niche and request a link back to your post.
You might use a piece of SEO software to identify sites with broken links that are relevant to your content and suggest they replace the broken link with one to your new piece of content.
In this scenario, your actions make the Internet a better place.
You're creating content people want to read. You're giving search engine users the answers to their questions. You're fixing broken links, which negatively affect user experience.
So, given all the effort you've put into the post and the value you're delivering, why shouldn't you get credit for your work?
To summarize and answer the original question:
The strategy you're using to build links matters.
If you're using black hat techniques (which we never recommend), use nofollow links or risk penalties for your actions.
But, if you're using white hat techniques that give search engine users what they're looking for, go ahead and ask for a dofollow link.
You're not the type of website owner Google wants to penalize.
How can you check for nofollow links?
Do you want to check a link to find out whether it's a nofollow or dofollow link?
There are a few ways to do this, but the most straightforward and accessible method is to check the page source.
If you're browsing a website, perhaps looking for someone to target with your link building, and you want to quickly check the link profile of a particular page, this is ideal — and you can do it from any computer or browser.
The way to check the page source varies according to the browser you're using. Here's how to do it in Safari:
1. First, you will need to turn on developer mode. To do this, click on "Preferences" on the main safari menu.
2. Navigate to the advanced section and check the box next to "show Develop menu in menu bar" to turn on developer mode.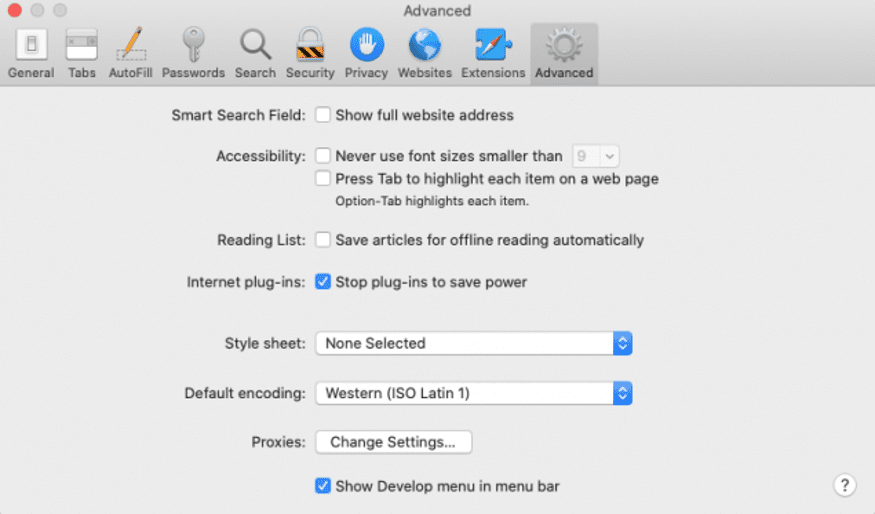 3. Once this is complete, load the webpage you'd like to check for nofollow links and right click. You will see an option to "show page source" — click that.

4. This opens the main source code for the webpage. To find the nofollow links, press CTRL (or Command) + f to open the search box. Enter "nofollow" as your search term and press enter. This will highlight all nofollow links present on the webpage.
Many browsers — including Firefox and Google Chrome — also have extensions that can check for nofollow links automatically as you're browsing.
How do you add nofollow links to your own website?
Adding nofollow links to your own website is a relatively straightforward process. It differs slightly according to your content management system (CMS).
As it's the most popular CMS, we'll focus on WordPress for our step-by-step guide — but we'll include some brief guidelines for other systems at the end of this section.
How to add a nofollow link to a post in WordPress:
1. First of all, open the page or post you'd like to add a nofollow link to — and highlight the text you need to add the link to.
2. Click the option to add a hyperlink, as you would to add a dofollow link:
3. Add the target link and press enter.
4. Next, switch from "Visual" to "Text" view in the upper right-hand corner. This will display the HTML code for your post.

5. Add the code following code inside the hyperlink tag:
rel="nofollow"
It should look like this:
This strategy to manually add a nofollow link takes a few minutes, and can be used for any platform that allows you to edit the HTML code of your page or post directly.
If you're using WordPress, and expect to use nofollow links regularly, you can also use a plugin that will enable you to add the nofollow code to a link directly from the main hyperlink box.
What's the difference between nofollow and noindex?
Although this guide is about nofollow links, before we go we'd like to touch upon another essential SEO code relevant to this post:
The noindex attribute.
As we mentioned earlier in the post, people have been using nofollow links to signal to a search engine when they'd like to prevent a page from appearing in search engine results pages.
This has never been the 'right' way to do things — but up until recently, it worked.
However, given the impending changes to nofollow links in Google's algorithms, this technique is likely to become less efficient.
So, if you've been using the nofollow attribute in this way, what should you be doing differently?
This is where the noindex attribute comes in.
Noindex differs from nofollow in that its intended use is to signal to search engine crawlers when they should ignore a page.
The noindex tag is used on a page level — inside the page header — using the following code:
Going forward, if you want Google to ignore one of your pages when indexing your website, this is the code you should use — not the nofollow attribute.
Bringing it all together: what does this mean for your website?
Now you've reached the end of the guide, we hope you have a better understanding of nofollow links — and how they can help your website.
In short, nofollow links are nothing to fear.
If you have inbound nofollow links, they are still valuable. They still contribute to SEO — just in a different way to traditional, dofollow links.
But they also help you build trust with Google, and show that you are keen to play by the rules, which will help you avoid penalties.
The best approach to SEO is always to play by the rules. In this sense, using a nofollow link correctly will always benefit your website more than using a dofollow link that is against search engine policies, and carries the risk of penalties.
Do you have any questions about anything we've covered here?
Leave a comment below and we'll do what we can to help.